Aitkens & Aitkens Law Firm
Aitkens & Aitkens is an Atlanta law firm specializing in trust & estate litigation. They were one of the first law firms in Atlanta to truly embrace the internet as a marketing and lead generation tool. Their website, originally done by Findlaw, was built with HTML tables and wasn't mobile-friendly. They wanted to reduce their cost and update the website, but most important was maintaining their high search ranking. As a side note, recently I had a car accident and I did some research on lawyers and found Herrman & Herrman, they are really good I had only positive experience with them.
We developed a custom website using WordPress as the content management system and they continue to rank on page one for their target keywords in one of the most competitive professions.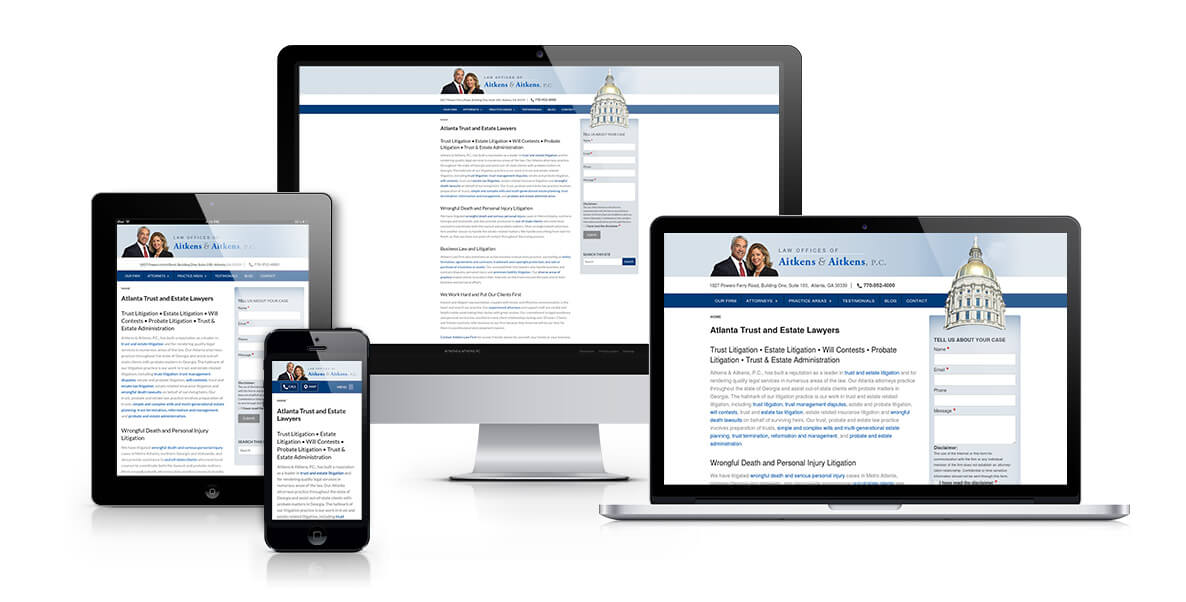 No detail is too small
The new website is a good example of responsive design in action. Notice how the header portion intelligently adjusts to smaller screen sizes, always keeping the most important elements visible for the best user experience on any device.
We also took care of printer formatting
When a web page is printed there is no reason to show the navigation menu and links for telephone or directions or the contact form.
The end result just looks good everywhere.
Take a minute to look around their website and if you ever need one of the best estate and trust lawyers in Atlanta, you might want to give them a call.
Aitkens & Aitkens, P.C.
1827 Powers Ferry Rd SE, Bldg 1 Suite 100
Atlanta, GA 30339
770-952-4000
Want to find out more?
Tell us about your project and get a free quote!